Colorful old quarters, coffee line squares, and clattering trams, Portugal's capital Lisbon is a city begging to be explored. If you love sightseeing, you'll be spoilt for choice here. Here are some must see attractions in Lisbon, Portugal.
25th of April Bridge
You can't miss the impressive 25th of April Bridge. This is one of the world's longest suspension bridges and it is a mile and a half long. Also, the statue of Christ is watching over Lisbon from the banks of the Tagus River.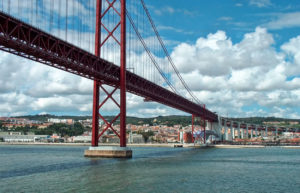 Belem District
Just along the waterfront is the Belem District home to a cluster of Lisbon's most famous sights. This area celebrates the Age of Discovery when Portugal led the way in exploration by sea during the 15th and 16th centuries. It was from Belem that explorers set sail on their perilous voyages into the great unknown. The Belem Tower provided them with their last and the first glimpse of homeland. It's now a UNESCO World Heritage Site and Lisbon's most iconic landmark. Nearby, the soaring Monument to the Discoveries depicts important individuals from that era including royalty, poets, painters, and explorers. Leading the way is Henry the Navigator – a figurehead during the Age of Discovery.
Maritime Museum
If you are Keen to find out more about Lisbon's fascinating seafaring past, don't miss the Maritime Museum home to a treasure trove of nautical relics. The centerpiece is the majestic 18th century barge which has carried some famous guests over the years including Queen Elizabeth the second in 1957. The Doolin Lisbon's crown is a symbol of Portugal's power and wealth during the Age of Discovery. Commissioned in 1502 by King Manuel, this is the finest example of "manuelly" architecture – a style unique to Portugal and characterized by ornate details and sculptures. It's also the final resting place of Vasco da Gama, the first European to reach India by sea.
Baixa district
Over in the pulsating Baixa district, you are reminded that Lisbon is also very much a cosmopolitan capital. You will find buzzing boulevards such as Rua Agusta and grand squares like Rocio, a 24/7 hive of activity. Meanwhile tucked away down a narrow backstreet is the Santa Schuster elevator built in 1902 to connect the lower and upper towns. Inspired by the Eiffel Tower, it remains one of Lisbon's best loved landmarks.
Alfama
Just a stone's throw from the bustling city centre Lisbon changes dramatically. Alfama is Lisbon's oldest neighborhood – a steep tangle of ramshackle houses, twisting alleyways, and secret staircases. Here fishermen and their families have lived for generations and long-standing traditions survived to this day – it's the true heart and soul of Lisbon.
Explore by Vintage Tram
If the old-world charm of Lisbon appeals to you why not explore by vintage tram. Rattling around Lisbon since 1873, these iconic Trams climb the narrowest of back streets giving you a glimpse of local life away from the busier parts of the city.
Lisbon is a city proud of its history, culture, and traditions but with a vibrant atmosphere and energy. Take a tour excursion in Lisbon and you'll experience the best of this exciting port of call.
Please follow and like us: