It is my belief that no matter where you live in America there is plenty to see right in your backyard. With this in mind, I decided to drop a pin on the map at random and plan a sightseeing trip within an hour's drive from this pin. This pin-drop experiment will start in Barnhart, Texas.
Now, if you're one of the 105 residents of Barnhart you likely know the history of the town, but for the rest of us, here's a quick review. Barnhart was named for the agent of the Kansas City, Mexico and Orient Railway, William F. Barnhart, that obtained the right to build the railway through the town in 1911. Barnhart was once a major shipping point for cattle and sheep in West Texas. Now the town is home to a couple of gas stations, a post office, and Signor Lodging Hotel. If you're hungry while in Barnhart you can grab a bite at The Oil Can Sports Bar and Grill, a family friendly restaurant offering breakfast, burgers, pool, and the cozy atmosphere you'd expect from a small town in West Texas.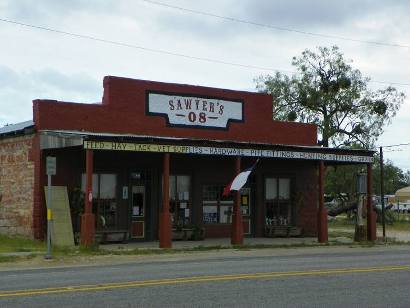 After your meal at The Oil Can, you may want to head out of town for some activities. One great thing about Barnhart is the town is build around a four way intersection. So whether you head north, south, east, or west you are going to find something to do less than an hour away.
Traveling east the big towns you'll find include Big Lake, Rankin, and McCamey. If you're looking to get out of Barnhart but not go too far, head to The Shop Food Park in Big Lake. Here you can take in a comedy show or enjoy open mic night. However if you're looking for something a little more reflective, try the Rankin Museum or the McCamey Veterans Memorial. Finally if you're looking for more food and nightlife in McCamey check out The Hut for music, pizza, and pool.
Now when you head south from Barnhart your first stop should be Ozona. This town has everything from history to off-roading. The town square offers great photo opportunities of the stunning Crockett County Courthouse, boutique shopping, and the Crockett County Museum. If the museum doesn't satiate your craving for local history, you can take a quick drive over to the Fort Lancaster Historic Site and hopefully catch a live reenactment of life in the frontier days. From here, you can continue to travel south to the ghost town of Juno. There's not much left to see but the remains of the old country store, post office, and farms. The most interesting piece of Juno is the origin of the town's name. When there were still residents in Juno, there was a simple restaurant the served two things, beans and beer. According to legend when customers would ask what was on the menu the barman replied, "Ju know." The joke was so popular the name stuck when it was time to apply at the postal authorities. Last but not least of attractions south of Barnhart, we have Sonora. The most popular attraction must be the Caverns of Sonora. With regular tours and many options, it would be easy to spend a day exploring the depths and wonder of these caves. However if you're looking for something more active you can try golfing, swimming, or go for a nature walk on Eaton Hill.
No trip to Texas would be complete without BBQ, and for this you want to go north from Barnhart and stop in to The Dark Horse BBQ & Grill in Sterling City. With daily specials including BBQ stuffed potatoes, Cajun meatloaf, and shrimp etouffee this place will not disappoint.
Finally, less than an hour west of Barnhart, you can visit San Angelo. This city has something for everyone. There are several museums and art galleries, a planetarium, the International Waterlily Collection, historic forts, and a lake for relaxing, fishing and watersports. If the barbeque scene wasn't enough for you a The Dark Horse there are more than enough options here to meet that need. I suggest The Concho Pearl Icehouse for brisket stuffed avocados or  Miss Hattie's Restaurant and Cathouse Lounge for fried oysters.
Please follow and like us: